Branding & Identity Systems
Logos matter. They are single symbols that can be devoured by the eye in milliseconds—and yet they speak volumes. The importance of the logo is lodged in its origin. It comes from the ancient Greek logos, which is an all-encompassing word that contains concepts like narrative, explanation and even reason.
Kono Magazine
We spawned a new breed of kids magazine, encompassing not only the specific arena of martial arts but also the more general areas of entertainment, lifestyle, and health. The ploy was to balance the specialized (martial arts) with the broader culture. The ploy worked.
"Skaaren Design was the first and only firm that really understood the vision of Kono. Cory and his team were able to create a world for kids that was fresh, energetic and cool--without the kiddie cliches or cheesiness that we had seen with other attempts at brand identity."
- HK Kim, Editor-in-Chief
A Special Report On: Human Rights
Unfortunately, noble causes can't get by on sheer nobleness alone. They need to be presented in an aesthetically pleasing manner while at the same time project competence and seriousness. With this Human Rights Report specialty publication, we not only did the designing but also helped shape the editorial model for a piece of print material that, visually, begs not to be ignored - on a topic that, ethically, shouldn't be ignored.
"The Human Rights Report was a very unique project with a lot of moving pieces. Skaaren Design quickly developed a strategy to tie them all together. From the attention given to the smallest of details to the creativity applied throughout, the quality of service and personalized care exceeded expectations. Working with Cory is something I have quickly come to enjoy because the quality and the experience are equally outstanding. I'm still taken by the consistently positive feedback that the report has garnered."
- Les Prendergast, Managing Editor
ReadyMade Magazine
We guest art directed the Holiday issue of a magazine focusing on sustainable lifestyles and do-it-yourself projects, geared towards the young and hip. If you've never heard of ReadyMade either you're not young or not hip, or both, or neither, or whatever.
Ethisphere Magazine
We redesigned a renowned business ethics magazine. New logo, new layout, new content. Not so much a make-over as a reincarnation—same soul, different body. Do you believe in reincarnation? Or is that too personal?
"What separates Skaaren Design from other elite design firms is how they engage with their clients and their approach to process. Cory and his team dig into their clients' industries, learn their markets and ultimately serve as a true partner in creating a product that both looks nice and, maybe more importantly, resonates well with the clients' own audiences and customers."
- Stefan Linssen, Publisher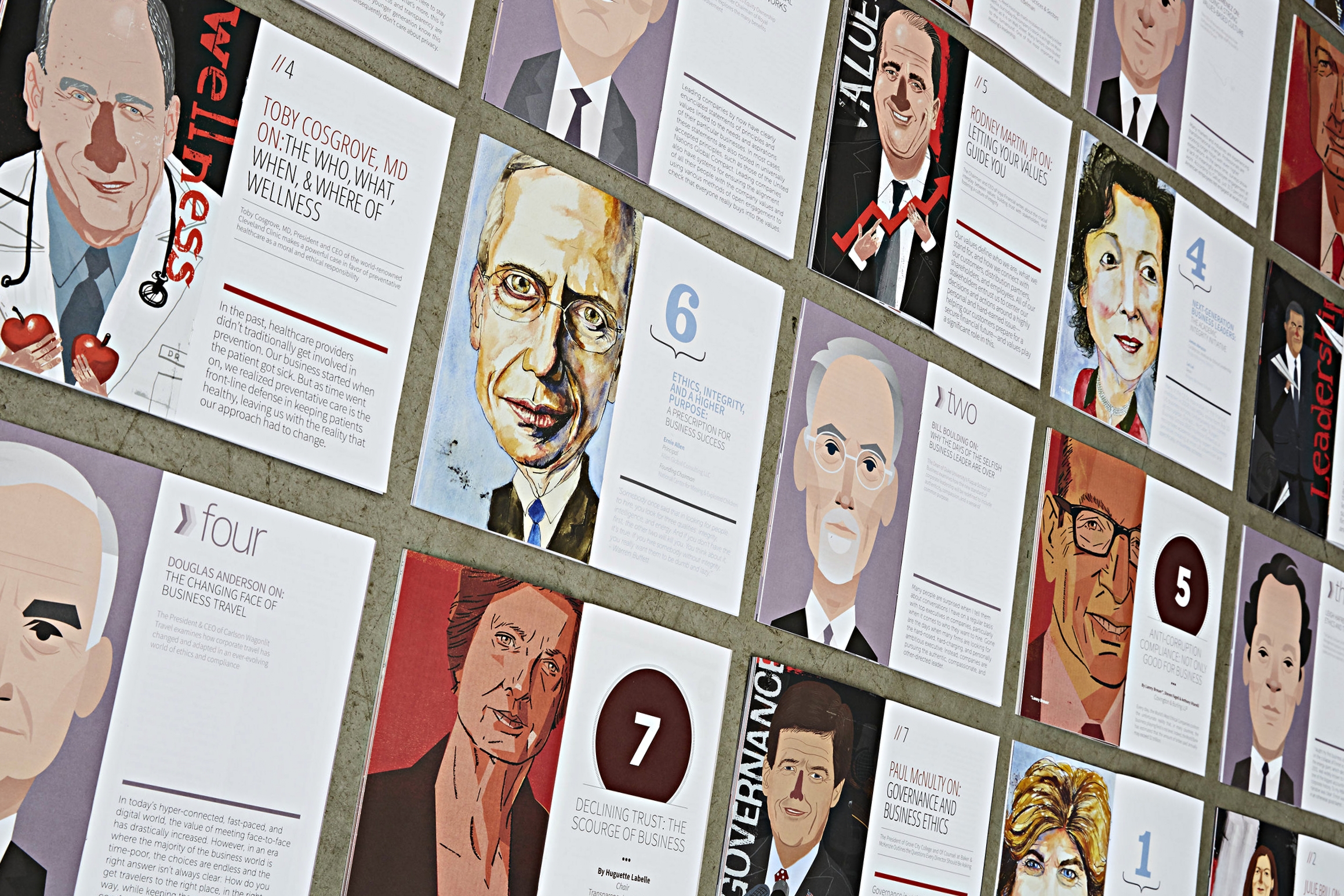 The Executive Briefing
Thrills are not synonymous with corporate briefings. In this case, we matched the forward-thinkingness of the CEOs and corporate thought leaders who contributed to this briefing with equally forward-thinking design. No boring photos of people at their desks, no super-small typography that just begs not to be read—instead, something more inviting and vibrant.
Not Impossible Now Poster
There are two kinds of people in the world: those who are optimistic about the future and those who are not so optimistic. Notimpossiblenow.com is a site dedicated to the former, filtered through the lens of technology. This poster was designed to catch that optimism about the role technology plays in our lives and couple it with the organic.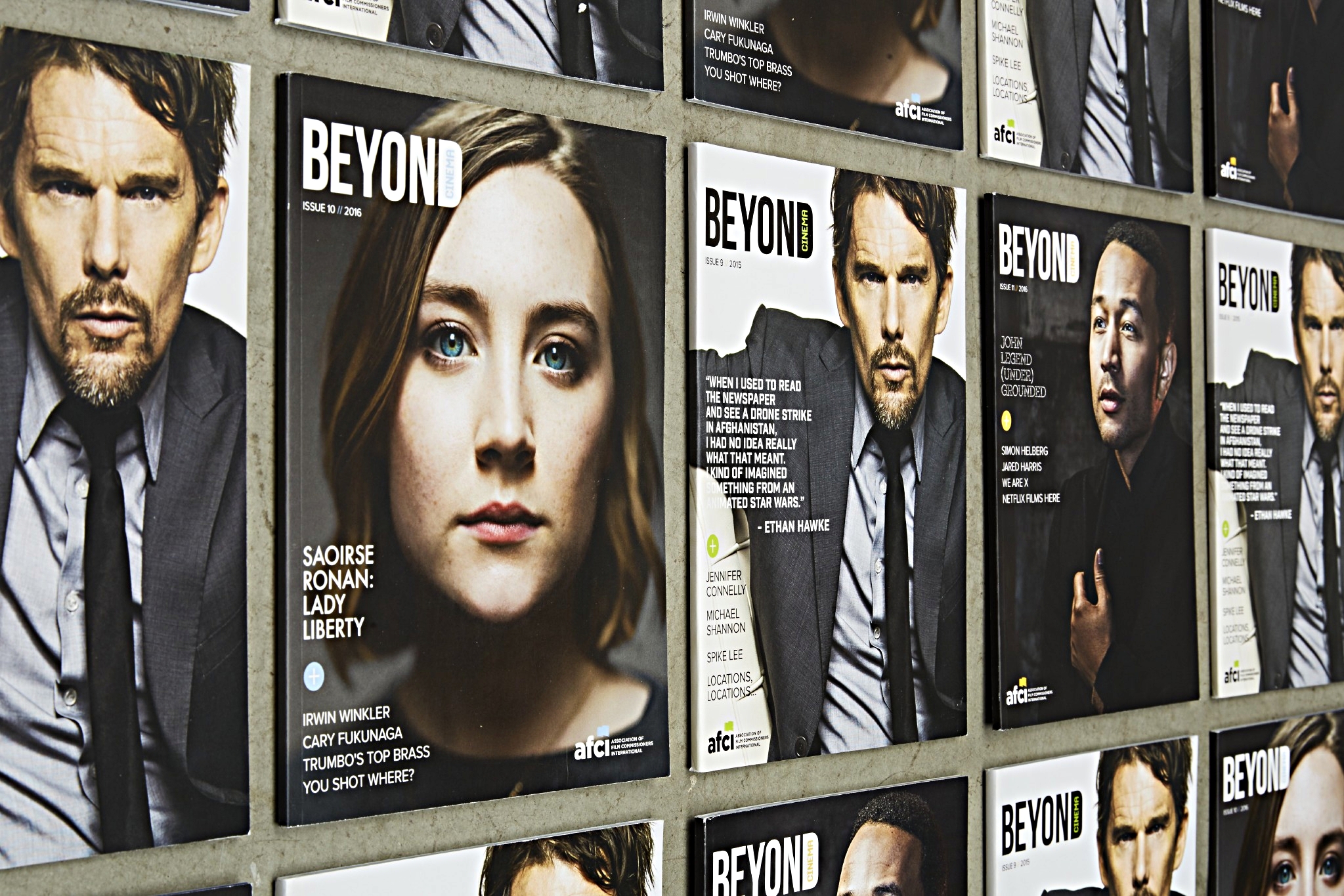 Beyond Cinema Magazine
Most movies tend to be so slick and highly-polished that we often forget the grunt work and constant revision behind them. Beyond Cinema is an industry magazine dedicated to exploring the business of cinema in all its forms: scouting locations, the ins and outs of indie production, securing financing, etc. The design was inspired by the doodles and rough drafts and controlled chaos of the creative process.
"Having worked together previously on an award-winning publication, it was a no-brainer for us to turn to Skaaren Design when we set about launching Beyond Cinema. It's Cory's appreciation/obsession for the nuances of design that creates the lasting brand recognition we were looking for, enabling our new brand to feel effectively familiar."
-Elliot V. Kotek, Editor-in-Chief
Kidpreneurs Book
To develop and design a book showing kids how to become entrepreneurs. Our guiding principle was not to talk down to kids. Useful information presented in a dynamic way, minus the condescension—we suggest all you parents and teachers out there try it some time.
"When we hired Skaaren Design to 're-work' the design of our book, Kidpreneurs, we were expecting a big improvement. What we actually received was a complete overhaul that BLEW away our expectations. If there is a guy that likes to go above and beyond the call of duty in design, its definitely Cory and the team at Skaaren Design. He took our book's design from OK to award winning!"
- Adam Toren, Author
work
Nothing speaks louder than a body of work. Resumes, references, lists of clients, degrees, diplomas, certificates—they all obviously suit certain purposes, but when it comes to design the body of work trumps all. Take a look at what we've done. You'll see not only quality, but variety, versatility, and artistry, too. Above all, trust your eyes: if it looks good, it is good.